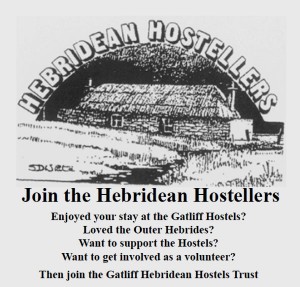 Once you have enjoyed the experience of staying in any of our three hostels you may wish to receive regular information on the Outer Hebrides, including our ongoing work to upgrade the hostels and maintain them against the ravages of the elements in the Western Isles.
You can keep in touch by becoming a member of the Gatliff Hebridean Hostels Trust and contributing £10 a year. Under 18s pay £7.50 a year. In exchange for which you will receive our newsletter Hebridean Hostellers published twice a year and our Crofters Newsletter published once a year.
It is also possible to become a Life Member for a one off fee of £200. This money is invested in a unit trust specifically designed for charities, called Charifund and the is used to fund medium term, programmed improvements such as re-thatching. If you are interested in becoming a Life Member please complete the usual application form making clear your intentions or contact ghht@gatliff.org.uk.
You can look at our back issues here.
We also would like to use the skills of members to run the Trust and publicize its role in attracting new visitors to the Outer Hebrides who would enjoy staying in the accommodation we offer.
We would be delighted to welcome you to membership of the Gatliff Hebridean Hostels Trust. You can download an application form here. Membership runs from 1 January to 31 December. To be sure of a vote at the AGM members must renew their subscription by 1st May.